<!HEADER START>
<!TITLE START>

Tax Credits and Savings - Electric Bill Too High... Better Get Akamai - Solar Photovoltaic System

<!TITLE END> <!SOCIAL SECTION START>
<!HEADER END>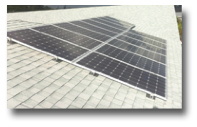 <!#43START>
"ELECTRIC BILL TOO HIGH... BETTER GET AKAMAI"
Smart PV Solar Advice from Hawaii's Smart Energy Solution
While getting a photovoltaic solar system can save homeowners thousands of dollars in electricity costs, coming up with the up front investment for a PV solar system has been an expensive obstacle for many until now. Akamai Energy has made it their mission to make it more affordable for all Hawaii residents to "go green and save green."
With the aggressive state and federal tax credits available in Hawaii, getting a PV solar system is a "no brainer" according to many solar companies. In most cases, a homeowner's net investment (after receiving tax credits) can be paid down in 4 years or less by applying the average monthly dollar amount that the home owner is paying towards their electric bill each month. The one obstacle that prevents many homeowners from getting a PV solar system is the 'out of pocket' or 'up-front' costs associated with the system.
Akamai Energy has addressed the concern of many Hawaii residents that "going green can be expensive" and is offering the most affordable photovoltaic solar system pricing in Hawaii. Now, everyone can afford to save money on electricity and invest it back where it belongs... with their Ohana.
"I called every solar company out there. No one came close to Akamai Energy's prices. They saved my family over $12,000 in up-front costs, " said Dean S. of Aiea. "Imagine that...$12,000 saved in up-front costs... that meant extra money for my wife and I...the kids, the holiday's coming up... and more savings on the way each month with our new PV system."
According to Randall K. of Honolulu, "Akamai Energy's pricing is very realistic and fair and actually made us go from leasing to doing an outright purchase. At first we thought leasing was our family's only option because most of the PV companies were charging so much to purchase a system. When I met with Akamai Energy and seen their pricing, I was very pleased that we were able to afford to purchase a PV solar system versus leasing a system. My wife and I could take advantage of our hard earned tax credits, instead of giving them away to the leasing company. Had we done a lease, we would've wasted thousands of dollars on a 20-year lease and never ever owned the system."
ref no:17180
<!#999SPACERStart>
<!#999SPACEREnd>
<!#999SPACERStart>
<!#999SPACEREnd>
Please send questions about this website to
webmaster