<!HEADER START>
<!TITLE START>

Solar Photovoltaic Electricity: The Absolute Best Investment For Your Ohana!

<!TITLE END> <!SOCIAL SECTION START>
<!HEADER END>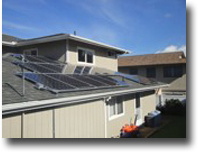 <!#43START>
"ELECTRIC BILL TOO HIGH? BETTER GET AKAMAI!"
Smart PV Solar Advice from Hawaii's Smart Energy Solution
SOLAR ELECTRICITY: THE ABSOLUTE BEST INVESTMENT FOR YOUR OHANA!
NOW is the perfect time to GO SOLAR…
(AND IF YOU'VE ALREADY GONE SOLAR…
KEEP YOUR INVESTMENT SHINING FOR A LIFETIME!)
Now is the perfect time to go green with a photovoltaic system from Akamai Energy.
The 2012 winter rush for solar is over, and Akamai Energy is prepared with enough install crews to handle your electrical demands, says Richie Aqui, Managing Director of Akamai Energy.
Akamai Energy continues to make the task of purchasing a photovoltaic solar system easy and affordable. A simple phone call to 445-9119 sets you up with a friendly Akamai Energy representative that will handle a short 30 minute on-site survey of your home, a review of your electrical needs and a formal written estimate delivered within 24 hours of the time of visit.
"Although, the revised Hawaii Solar Tax Credits have gone into effect as of January 1, 2013, Akamai Energy has got Hawaii residents covered with our exclusive Akamai Rebate. Just think of it as an extension to 2012's incentives," says Aqui.
Hawaii still ranks among the nations MOST generous states with a 35% Hawaii Solar Tax Credit along with a 30% Federal Solar Tax Credit plus with the Akamai Rebate…it's a no brainer to go green with Akamai Energy!
To help expedite any financing needs, Akamai Energy has teamed up with one of Hawaii's top local credit unions with 11 Oahu branches to help you get financed quickly for your solar system. To apply with an Akamai Energy solar loan program partner all you need is your Akamai Energy contract, signed loan application, 2 years tax returns and 2 current pay stubs for all parties applying for the loan and you can get financed in as little as 3-4 business days.
According to Akamai Energy's Senior Sales Consultant Frank Fasi, Jr. "Akamai Energy sells nothing but the absolute best American made panels from Solar World. These panels are salt mist resistant…perfect for Hawaii! Each panel comes with a 25 year warranty on the panel and inverter as well as a 10 year warranty on your installation."
Akamai Energy's pricing is very affordable. "Going green should be an option for everyone…not just some. Our quality of products and installation matched with affordability is the reason why we have so many happy customers and referrals," says Aqui.
Akamai Energy is there through every step of the installation process, from taking care of all your city permits and HECO net metering forms to Homeowner's association paperwork and free 24 hour monitoring of your panels through Enphase.
Along with Akamai Energy's attractive residential and commercial PV and solar hot water systems, Akamai Energy is also proud to offer an exclusive nanotol cleaning solution that will ensure your panels are clean and efficient for years to come. Many solar operators believe that natural cleaning of solar modules through rain and wind is sufficient and therefore no additional manual cleaning is required. However, this is outdated from today's perspective. Non-cleaning of solar panels will often result in irreversible damage to the modules, reduction in efficiency and shortening the life of the equipment. To protect your investment and ensure peak performance your solar panels need to be coated with Akamai Energy's exclusive nanotol line, to maximize your return! An easy to apply transparent coating will leave your panels efficient and clean for up to 3 years with no additional maintenance required.
"I encourage everyone who has invested in a PV solar system, whether through Akamai Energy or another solar company, to have your panels cleaned with our exclusive nanotol technology," says Aqui. Our nanotol line is also perfect for automotive, boats and yachts, fabric and wood, floors, lenses, electronics, home care, you name it. It even seals and protects concrete and keeps concrete clean. That's how good it is!" exclaims Aqui.
Looking to save money on gas and increase your gas mileage? Akamai Energy's got that too! "We are constantly looking for ways to help everyone save money. It is very costly to live in this beautiful state of Hawaii," says Aqui. Its time for everyone to 'GET AKAMAI!"
<!#43END>
ref no:17177
<!#999SPACERStart>
<!#999SPACEREnd>
<!#999SPACERStart>
<!#999SPACEREnd>
Please send questions about this website to
webmaster